From Bryon Mann and Pamela Anderson, to John Cho and Alicia Silverstone, we've got some heavy interracial, butter on cream action going on for 2007.

T

omorrow I'm off to Vegas for another bootcamp. So far I'm 2 for 2 for getting at least one student laid: LVONIS and Toy Machine. Hopefully we can make it 3 for 3, but we'll see. Every student is different with unique circumstances, but this is VEGAS we're talking about.

Anyways, there are several current and future movie and TV projects that have some decent Asian Male portrayals of alphaness, dominance, and sexuality. From Bryon Mann and Pamela Anderson, to John Cho and Alicia Silverstone, we've got some heavy interracial,

butter on cream action

going on for 2007. Here are some pictures and trailers for your reading pleasure...

One of the new breakout hit stars this past season was Masi Oka (Hiro Nakamura), recently nominated for a Golden Globe. Alas, his cute as a button love interest Charlie (played by Jayma Mays) got offed, but rumor has it from EOnline that Masi's character has some future smooching action in store with a love interest. Of course, I personally think Future Hiro is waaaay cooler with his soulpatch and katana. Like Future Trunks from Dragon Ball Z. OK, enough with the nerdrection already.


"A Dream of Red Mansions" (2007 Movie)

Ken Watanabe (Oscar nominated actor from "Last Samurai" and "Letters from Iwo Jimi") and Kate Hudson ("How to Lose a Guy in 10 Days") star in this true life story of American journalist (played by Kate) who falls into a passionate love affair with a Communist revolutionary (played by Ken Watanabe) in 1949. Robert Harper, a diplomat, goes postal at this forbidden love.

Starring John Cho (named by People as one of the "Sexiest Men Alive" and movie "Harold and Kumar Goes to White Castle" fame) and Alicia Silverstone ("Miss Match"), it places 5 single people at a wedding who recount their past dating experiences. It's a sitcom over at NBC for the 2006-2007 midseason replacement. Which incidentally you can watch previous episodes of "Studio 60 on the Sunset Strip" and "Friday Night Lights" and other NBC shows.



"Dragon Boys" (New Canadian Mini-series)

Starring Bryon Mann (a Chinese Hong Kong actor), this is a mini-series that has just started showing up in Canada on CBC (Canadian Broadcasting Corporation). Set in Vancouver, it follows several storylines including an ambitious cop (Bryon Mann) who has a beautiful non-Asian wife trying to take down two Chinese crimelords (Eric Tsang & Lawrence Chou). The second storyline is of a Chinese family (parents played by real life husband and wife team Tzi Ma and Christina Ma) and the son (Simon Wong) who falls into a gang for protection after being racially bullied one too many times (reminds me of LittlePUA and his encounter with the neo-Nazis). And finally, it follows a beautiful Cambodian immigrant (Steph Song) who is forced into a life of prostitution to pay off the Snakehead who transported her over.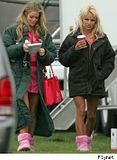 "Blonde and Blonder" (2007 Movie)

Stars Pamela Anderson and Denise Richards- two still very hot MILFs- in a romantic comedy who "take out" Bryon Mann (again!) for the Mafia. Hey, Pam's single again so one of the bros needs to show her why "Once you go Asian, you can't go Caucasian!"


"Beauty and the Geeks" (Current CW Reality Show)

You've got dating & pick up coach Niels Hoven (half Asian I think) and Piao (who only kissed one girl) surrounded by a bevy of big booby blondes. Alas, Piao bit the big one in the last episode. I would say it's one of those sad things when Sheree described Piao as unwilling to try and change. Here's your classic Asian nerd who can't relate to anyone. Well, let's see if Niel can represent where Piao failed abysmally! Rumors abound of one of the geeks hooking up with one of the bimbos AND a sex scandal! Booyah!


Related Posts
Labels: Asian Male White Female, Beauty and the Geeks, Media, News, Niels Hoven, Piao, Pics, Toy Machine, Vancouver, Vegas, Video