M

ore crazy, insane Asian men on hot Blondes/Brunettes/etc. action! There was a bit of a SNAFU as we had planned on all of us going to Tao, a hot nightclub in Vegas, on our second night of the Spring Break bootcamp.

Instead, we had to split up into smaller groups although every student still had an instructor to watch over him and we maintained a high quality level field work with a 2:1 student to instructor ratio. Live and learn.







One Asian Stud and Two Tig Ol' Bitties on a Hot Blonde:


Ummmm yeah, do you REALLY need me to spell it out? Booyah!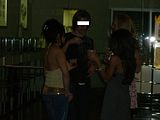 Groove Holds Court with a Three Set of Hotties:


Approach Coach Groove shows off his mojo while we wait in line at Tao.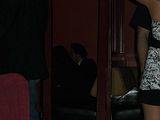 Two APB Students in Isolation:


It's hard to see, but here we have two separate students of mine in isolation with their girls.
The student on the left (black blazer) used Direct Game that OCWaterBoy, Papi, and I taught on the second day of lecture. It worked so well, that when she came back from the restroom, SHE isolated HIM to the booth.

The student on the right (brown shirt) picture is sitting down and kinoing the blonde. Also using one of the Direct Openers I gave him during class.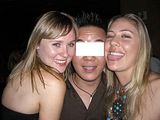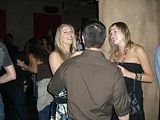 Two Blonde Sisters and an APB Student:
Alas, no Sisters Lay Report like my Los Angeles bootcamp with Yellow Cab, but this student (same student as the 2nd isolation picture above) was doing really good at gaming these blond coeds. He was going strong for almost an hour, but it was super tough to separate that pair bonded siblings.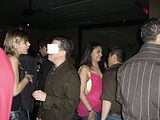 Two APB Students Split Up a Two Set:


Here we have two of my students (brown shirts) splitting up a two set using my advanced Body Language tactic called BLP or Body Language Positioning.

Related Posts
Labels: Asian Papi, Big Breasts, Blonde, BLP, Body Language, Direct Game, Groove, Group Bootcamp, OCWaterboy, Pics, Student, Tao, Vegas