P

lease, keep the approbation coming. In no particular order, Modern Savage on his new blog has listed 25 of the World's Greatest Pick Up Artists.

So some of my Minted Titles are:

Asian Playboy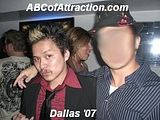 A former student of Mystery's and recently voted the world's best Asian pick-up artist, Asian Playboy has developed his own method called the ABC's of attraction. His focus is on dispelling the limiting beliefs of attraction in Asians and coaches many minorities on how to seduce beautiful women. His most recent research involves the concept of beginner's hell.
Mystery (Erik von Markovich)
David DeAngelo
Style (Neil Strauss)
Tyler Durden
Brad P
Gambler
Thundercat (Joseph Mathews)
Dave M
Juggler (Wayne Elise)
Gunwitch (Allan Reyes)
Ross Jeffries
Sinn
Mehow
Vincent DiCarlo
Lance Mason
David Wygant
Asian Playboy
David Shade
Zan Perrion
Cory Skyy
Swinggcat
Stephen Nash
Sean Messenger
Matador
Captain Jack
Feel free to leave Modern Savage some comment love!
Labels: Bruce Lee, Captain Jack, David Wygant, Juggler, Lance Mason, Matador, Modern Savage, Mystery, Neil Strauss, Ross Jeffries, Sean Messenger, Sinn, Tom Cruise, Tyler Durden