"Actually he is one of the best night game PUA I have met. Very talented, smart and most importantly socially intelligent. He demonstrated various scenarios which was my sticky point and was cleared. I also learnt his body language, style which really influenced me. If I had the money I would have defintely taken his bootcamp any time. BTW his bootcamp price is going to increase once he is done with his book."
-Sniperlove (Toronto)

I

had the pleasure of doing another bootcamp in Toronto with Social Alchemist and Toy Machine where I also had the chance to speak at Frank Kermit's Toronto Lair last Thursday. Below are some of the guys' comments as well three pics of the first girl I opened (outside the club) on Sunday.

She had melons bigger than my head and we were actually hanging out for about two hours, she paid for my club cover and bought me and my students like $50-$100 worth of drinks. Unfortunately, while I was trying for extraction, she ended up getting a little too drunk and politely ejected from the club by the bouncers. Ah well, win some, lose some.

Oh, and I did run into some cool peeps from Pick Up 101 as well as Johnny Soporno whom I hadn't seen since Cliff's List Montreal Convention in 2006. Realness all around.


By fab...

Asian Playboy was cool. He broke down some approaches and routines and it was great advise. I went out immediately and used some of his advise and got one phone number. I opened at least 6 or 7 sets in during the rest of the night as well. I would like to do a bootcamp with him next time he's in Toronto.
By feeniks
Asian Playboy is the real deal... The speed and clarity with which he can break down a PICKUP is sick. It was like a blitzkrieg of pickup information, and best of all... it was free!

The highlights for me were his thoughts on Time Management, Body Language and OF COURSE, the infamous Dancefloor Handjob (yes, he even taught us that!).

He even helped me start to tackle my personal sticking points and offered some helpful advice to get me through. GREAT job!!!

By redshirt
It was great to see Asian Playboy again, after his standout performance at Cliff's Convention last year.

APB shared a lot of first class material. He broke down "The Approach" into two components: 1. Body Language and 2. Verbal Opener and then went through the different ways to go about opening successfully, and about how to position one's body language in different situations.

He blows away the "What do I say?" frame with his "Where am I going to emotionally/physicalluy take her?" state of mind.

APB also identified two types of isolation: 1. Conversation 2. Escalation, and how to get it.

His "Wikipedia" theory of openers/story-telling was also discussed so as to make one's conversation natural and never having to fear for a loss of words.

The difference between Active Value and Passive Value was brought up, and how to make the most of ones value.

There's more but those are some of the highlights.

I've field tested some of Asian Playboy's material and ideas this past year and simply put, what he teaches works. His bootcamps I hear are intensive and there were alumni who have taken his bootcamp have become successful and have highly recommended APB.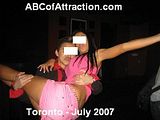 By ralgrub
I was only present for Sunday's meeting with Asian Playboy, which was Q&A.

I found that Asian Playboy was really straight forward with his answers and kept everything simple and sensical.

When he got up to show how to deal with tall AMOGs, as well as how to stop an obstacle from dragging your target away, I was really impressed. It came off as advice from someone very experienced.

It is unfortunate that I missed Thursday's seminar, as I am sure there was much good information that I could have learned.

By gogland
Asian Playboy is one bad dude with attitude. Seriously, he's completely awesome, like cold ice cream on a way hot day. His ability to really get inside a woman's head and translate that into man-speak that any duder can understand with ease is incredible. His take on approaching was refreshing and gave me many new insight on just where to go and how to do it. He really made it clear that it's where I'm taking them emotionally and physically instead of what lines I should be saying that matters. Being part of his AMOG demonstration as a the AMOG'd was radical, and totally made me realize when I had been AMOG'd the same way in the past. I really learned the power of the word "what" from this meeting and can definitely say that Asian Playboy is a guy who gets it.
(gogland of torontolair.CA).

By motive
asian playboy..very very money. on the first lair meet night his breakdown of some of really simple stuff (approaches, transitions) to the more mystifying concepts (dancefloor h.j. wink wink) was clear concise and totally easy to small chunk and understand. best thing about his style is that it is simple and he is totally approachable. he came back (see cool guy!) to the regular lair meet a few days later with his students and they all looked like someone had set them on fire they were so confident-

motive
torontolair.ca

By dickinc
i must say asian playboy comes off with an alpha attitude but very down to earth when you talk. what made an even more impression was toy machine. this guy is young but i think he has a certain look chickies will flock too. that spiked hair would do well at bovine. when he showed me his nevada license photo, it made me wonder many other people can go through the same metamorphis. it only took him 1.5 years. impressive and i hope they both do well.

By yourboychris
APB - AsianPlayBoy

Right after APBs seminar, about half of us from the lair all ate dinner together. I started picking APBs brain about asian women. I confessed to him that although I myself was asian, I was having a hard time picking them up in comparison to caucausian girls. He went into detail about the asian culture and society in general that really opened up my eyes. I got so motivated that I went out that same night and for the FIRST time in my life an ASIAN girl number closed ME! I highly doubt this was a coincidence!

And a big THANK YOU for telling me about PEPCID AC (maximum strength) for all you Asians out there that get the ASIAN FLUSH. (turning bright red) Take this 1 hour before consuming alcohol!

By sniperlove
His ABCDEF approach was put down in easy format for us to remember. Actually he is one of the best night game PUA I have met. Very talented, smart and most importantly socially intelligent. He demonstrated various scenarios which was my sticky point and was cleared. I also learnt his body language, style which really influenced me. If I had the money I would have defintely taken his bootcamp any time. BTW his bootcamp price is going to increase once he is done with his book. If u need his contact info ask me.

Inshort I was very glad to meet this smart suave cocky mPUA and look forward to meeting him in future
Related Posts
Labels: Frank Kermit, Johnny Soporno, Pics, Presentation, PU101, Reviews, Social Alchemist, Stripper, Testimonial, Toronto Lair, Toy Machine