"I said "you like how that feels dont you =) " she laughs and then she puts her hand inside one of the rips and POKES my COCK. I said "you POKED my COCK!!" She giggles and walks away. Now I think she's catstringing."
- Toy Machine

I

'm finally back in the Estados Unidos with a heavy case of jet lag. I swear, Washington Dulles airport is by far the WORSE airport I've ever been too.

"Can a doctor, nurse, or anyone with professional medical training please report to the First Class Cabin ASAP?" I shit you not, but apparently no one died and we didn't have to do an emergency landing.

Next thing you know, the next announcement might have been a worst case scenario "Can anyone with ANY flying experience report to the cockpit. Commercial, military, flight school... PLAYSTATION."

Well, I still need to rest up a little so I give you the further continuing adventures of Toy Machine, an APB Alulmni and Intern.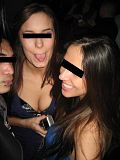 HJ-close #2



B

efore I headed out for the night.. I find out that I have to sleep in the couch cuz my parents were having family friends over and their taking over my room..whatever.

Me and my friend hit up a local college night bar when I saw the girl that I've been flirting with a couple weeks back. She promotes some type of alcoholic beverage on special events so I just treated it like a hired gun.

I just continued flirting with her..and talking to a couple of other friends having drinks..taking pictures and what not. Then me and her played a beer pong game together and WON 3 times!! I told her we made a great team and she agreed.

Later on I was talking to her and her friend and she mentioned she liked my pants. I like to rip my own jeans since vintage jeans are waaay to over priced. There were several rips on my right upper thigh which she started feeling on...

I said "you like how that feels dont you =) " she laughs and then she puts her hand inside one of the rips and POKES my COCK. I said "you POKED my COCK!!" She giggles and walks away. Now I think she's catstringing.

I was talking to my friend and when I saw her again I pulled her outside and told her I was gonna show her something. I ran the cube on her and as my second attempt at the cube..I think it went pretty well.. It wasn't like a mindboggling thing for her but it was mostly good reactions.

We chat for a bit more and she says she has to go pee. I said "me too but the line is too long.. lets go to the hotel bathroom". So we hold hands walking to the bathroom and we get there.. I pulled her in the women's bathroom! (this time no bouncers around muahahahha"

No one was there. Good. She was giggling. Even better. We go to one of the stahls and I said I pee better when someones holding my cock. While she's standing behind me I kiss her and she jerks me with both hands. YEEEYAAA!!

Turns out she's living with her boyfriend and as for me...living at home sucks =(

She's the one on the right and her friend in the middle and me on the left




- Toy Machine
RELATED POSTS
Labels: Airport, Brunette, Field Report, Filipino, Handjob Report, Pics, Toy Machine, Vegas, Washington Dulles International, White Women