"As were all conversing between one another, I feel a foot carressing my left leg under my pants. I glance down and notice that it is not the black girls foot because they are behind her. I look over and smile at the brazilian girl in front of me and she looks right into my eyes too. All the while she has her hand in the puerto rican guys lap and occasionally they kiss each other."
-OCWaterBoy
---
NEWS:

I have a

VERY important announcement to make tomorrow (Saturday)

. It's actually TWO announcements though they are related.

SO STAY TUNED!
---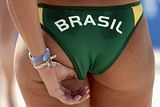 A

s you may know, OCWaterBoy is one of my best friends and we've traveled the world together. We actually met through Protocol, at the time an intern for Real Social Dynamics, and started winging together as there were just very few competent wingmen.

But one of the key things to lasting in the Game, beyond having PUAs who can help wing you, is also having friends and not hanging with some dude because of some online tenuous ties you might have. He's always had my back and I've had his.

We laid a swath of white women as we backpacked through Western and Eastern Europe and now, gentlemen, come Februrary...

WE ARE DOING CARNIVAL IN BRAZIL, BOOYAH!



Of course, we might also run into Tyler Durden and Company as they too will be doing their vacation down there. Hey, Geoff used to be a good wingman of mine before he became an instructor. Man, Rio won't know what hit them.

In the meantime, from OCWaterBoy's blog, I give you his threesome report on his FIRST night in Brazil. I remember getting his call at like 5AM in the morning and me thinking,

"This had better be DAMN good..."



First night in Rio 3 some report

Last night was my first night in Rio ever. And if last night is just a glance at what to expect for the rest of the 2 weeks. Sell all my stuff cause i´m moving here! :)

Upon arriving and checking into my apt i´ve rented in Copacabana, I bought another travel book specifically for Rio. It´s called a partiers guide for Rio, has a lot of pictures and lists clubs, bars, places to chill and live music for everyday of the week. It even has an approach index from 1-5 for every place, 1 meaning mostly couples go there, to 5 meaning many other singles will be there looking to hook up.

Sunday night it listed a club called baronetti in Ipanema, after I finished eating dinner that night I asked a waiter at the restaurant about the place. He said it was good but told me to wait a second and they will call it to make sure they are open tonight. After they called he told me tonight it was no good, but Monday night it will be. That led me to plan B when looking for local girls or other travellers who speak english, in a foreign country and your english speaking you can alwasy rely on the Irish pubs to find what your looking for.

I went to a place called Shenanigans in Ipanema, kinda small, one big room and a little patio for smoking on. The crowd was medium sized when I got there about 11pm. But soon it started to fill up a bit. As I was chilling on the smoking patio drinking my beer, a mixed 3 set 2 girls and 1 guy came out and stood near me while they smoked. Right off the bat it appeared that 1 girl was with the guy and the black girl was single. The black one kept bumping into me with her arm.

I was just chilling trying to size up the whole bar situation, keeping my ears open waiting to hear one of the sets in the bar speak english. That´s the one I would approach first. And where my best chances would be. Then I hear the 3 set next to me speak a few words to each other in english, but then they continue talking in Portugese.

After 2 beers I gotta take a piss, when I come out of the bathroom I go to the bar to get another drink, and as i´m standing there waiting the same 3 set comes and sits right next to me at the bar. OK now my proximity alert system is going off the hook. I turn to the black one who is next to me and ask in Portugese if she speaks english, not much she replied. I took 1 year of spanish in High School and studied a little portugese at home.

We were able to communicate for a little bit in spanish/english/portugese, then she introduced me to her friends. The guy turns out is Puerto-Rican American, so he speaks english, and is able to get by here using mostly spanish. The girl he appears to be with is brazilian native but speaks a lot more english than her friend does. The 4 of us go sit down at a small empty table, the black girl on my right, the guy on my left and the brazlian girl in front of me.

As were all conversing between one another, I feel a foot carressing my left leg under my pants. I glance down and notice that it is not the black girls foot because they are behind her. I look over and smile at the brazilian girl in front of me and she looks right into my eyes too. All the while she has her hand in the puerto rican guys lap and occasionally they kiss each other.

Not to long after both girls get up and go to the bathroom, when they come back the puerto rican guy goes to pay his tab, and the black girls goes out for a ciggarette. The brazilian girl is still carressing my leg and I tell her how it´s really turning me on. She says I got a present for you, I say oh really. She asks if her friend is coming, No I tell her, she reaches into her purse for something and says put your hand under the table, I do and she puts her panties in to my hand.

It´s on now, the black girl was shooting my major IOI´s through kino. Soon after both the guy and the black girl come back to the table. The black girl borrows a pen, grabs a knapkin, and write her name and 3 numbers down. This black girl is attractive but i´m more into her friend across from me, and I want her number but how to get it without the other 2 catching on to whats happening. So I ask the guys if he has a number to give me to, he does, then I tell the brazilian girl across from me to give it to me to. She hesitates and asks the guys shes with if thats what I want he says yeah, so she writes hers down to.

Not long after they tell me there all leaving. OK, I thought no problem I have there numbers all call them tomorrow. I go to the bathroom where I strike up a conversation in English with another American, he tells me he has slept with 2 hookers already and got close to sleeping with a local girl. But that´s it, I befriend him and he writes down his email and hotel he is staying at, so I now have someone to go sarging with. After that I look around the bar for another set to open, after seeing that most sets were taken I decided to call it a night.

When I make it downstairs to the street, I see the 3 set I had number closed. The black girl approaches me and starts talking with me again, and laying the kino on more heavy. The puerto rican guy and the brazilian girl walk away and go behind a big tree, where they make out for about 15 minutes. Until the black girl prods them to come it´s time to go. Now the puerto rican guy gets in a cab and kisses the brazilian girl good bye. That leaves me with the 2 girls. Then we all get into the same cab after talking about sharing it, in the cab the black girl asks if I have any alcohol drinks in my apt, I don´t I tell them.

When we arrive at my apt, the black girl got out of the cab and so did I, I go to pay the cab driver and shut the door assuming the black girl was comig up with me. She looks at me like what are you doing and her friend in the cab says, No go with him. Then the black girl tells her friend no you come with me too. After a little back and forth talk between them the other girl gets out of the cab too. Then we walk to a near by restaurant and get a beer for each of us.

Then while we are about to walk into the elevator were stopped by the 24hr apt doorman and his friend. He and the girls are speaking in portugese back and forth, then the girls tell me in english that only one of them can come up with me at a time, because they think these girls are hookers because were in Copacabana. The brazilian girl was going to leave her black friend and I alone and just go home, but the black girl persisted that she must come up to or she will also go home.

They talk with the doormen again and they say that if we pay them 20 reals which is less than $10 U.S. they can both come up. So I obliged, even thought I know it´s bullshit what they are doing. I was never told I could not bring up more than one girl at a time by the apt owner.

So now the 3 of us are all sitting on the sofa drinking our beers, and I place myself in the middle. Were all talking back and forth getting to know each other better, when I do my family photo routine on them, and they ooh and ahh like all girls do when I show them the pictures of my nieces, and nephew. They tell me they each want a kid who looks like that, blonde and blue eyed.

A bit later, the black girl comes over first and we start kissing for awhile. Then she stops and tells me to kiss her friend, which I tried but she backed away. Ok, so back to making out with the black girl, then a bit later she gets up and turns the lights off, and her friend goes into the bathroom. At this time I take off the black girls shirt and go to town on her tits, her friend comes out of the bathroom and lays on the bed.

Then the black girl tells me to go kiss her friend again, I walk over to her and start making out with her, then the black girl comes over and trys to start touching her friend. At this point her friend gets weired out and trys to move away, I held her while I continued to kiss her. Soon she relaxes to the point of taking off her shirt and pants. Now the black girl starts making out with her while I lick her friends clit. 5 minutes later she orgasms from tongueing her clit, while making out with her friend.

Afterwards I tell them, my turn. So they take off my pants and underwear and go down on me at the same time. The brazilian girl stops after a few minutes to make out with me while her friend stays down under on me. Soon after they ask if I have a condom, I put it on then the black girl gets on her hands and knees on the bed and backs up to me to do her doggy style. 5 minutes later, I stopped and put a new condom on and started fucking the brazilian girl, while the black one watched or something.

While fucking the brazilian one her wild side comes out and she starts talking real dirty with me, so I play along. After I finish the 3 of us lie around on my bed while the 2 girls are stroking my head and body with there hands. At this time it´s like 4:30am and the girls decided its time to go. The black one went into use the bathroom while the other started putting her clothes back on I walked over to her and started kissing her, I got my erection back and put her back on the sofa. The black one comes out says for us to stop and come on lets go to her friend, we just ignore her. Minutes later I walk over grab another condom and fuck her again, while the black one lays on the bed and watches. End of story, kind of.

That was Sunday, and every night since then the brazilian girl has came back and we have had sex every night. I´ve also gotten to know her alot better, and found out she´s married to some Italian engineer but he is gone for months at a time, and shes really lonely. She has asked for a divorce but he wont give her one, she just wants to be single and live her life. I havent gone out to another bar or clubs yet because i´ve spent my night with her so far, but tonight I plan to go out alone and look for more action.

- OCWaterBoy

>> The ABCs of Attraction... Supercharge Your Game!
>> A List of Instructor Lay / Hook Up Reports
>> [STUDENT LR]: LVONIS Laid On 1st Night in Vegas
>> [STUDENT LR]: Toy Machine Laid on Last Night in Vegas
>> [STUDENT HJR]: Bucket Head Gets a Handjob on the 2nd Night in Vegas
Labels: Announcement, Brazil, Carnival, Field Report, Geoff, Instructor, Lay Report, OCWaterboy, Pick Up Coach, Protocol, Real Social Dynamics, Threesome Report, Tyler Durden, Vacation, Wingman